Contact
If you have any anecdotes, suggestions, comments, critics, or spot inaccuracies, contact me: diagonal (@) bluewin.ch
There are probably still some mistakes in the data I've collected, primarily based on the swiss weekly DIE SCHACHWOCHE (1978 - 2003) and THE WEEK IN CHESS (1994 - present) as well as the further mentioned origins in the chapter sources and readings - www.chessdiagonals.ch.
I'd greatly appreciate any corrections you send to chessdiagonals.
Same goes for any kind of feed-forward.
Your e-mail is kept confidential.
What is missing?
More informations and data from Dutch league competitions with Viktor Korchnoi participating.
Thanks in advance!
Emblem's origin

BISHOP

Initially, each player has two bishops that can be moved on diagonals of their colors and capture the same way. Conventionally, a bishop is equal to a knight or approximately three pawns in its power. Double bishops, however, are mostly more powerful than, for instance, double knights, especially in the open middle and end game. In algebraic notation, this piece is represented by a character B.
BISHOP of Opposite Color A situation where each side has only one bishop left and those bishops travel on squares of the opposite color. The significance of this situation is that it often brings about a drawn endgame, even if one side has extra pawns.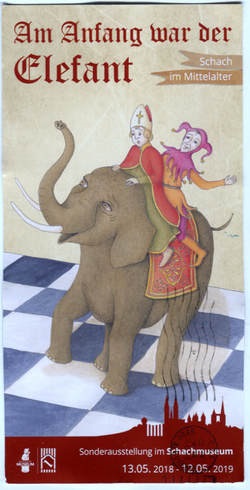 ELEPHANT

Originally, this piece was called Elephant (Arabic - alfil) and could move diagonally and leap over one square. It was not until the late 15th century when it finally became the Bishop we know today.
The piece is named Bishop in English, Slone (translated: Elephant) in Russian, Fou in French, Alfil in Spanish, Alfiere in Italian, and Läufer in German.


The poster, showing a bishop and a fool (french: le fou) on an elephant, is taken from a poster of an exposition at the chess museum in Ströcbeck, Germany in 2018/19.
The Elephant was First - Am Anfang war der Elefant:
"Diese Ausstellung im Schachmuseum Stroebeck ist dem mittelalterlichen Schach gewidmet, mit besonderer Betonung der Rolle, die der Elephant darin gespielt hat. Im alten persischen und arabischem Schach - ist der Elephant der Läufer (Pil bzw. Fil) - erst in Europa wird er langsam durch Fou, Bischof und den deutschen Läufer ersetzt."
Site: http://www.schachmuseum-stroebeck.de/home.htm (english or german language)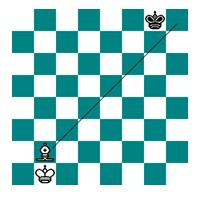 DIAGONAL

A continuous line of squares. Identification is made by naming the squares at each end.
The diagonals a1- h8 and h1- a8 are known as the long diagonals.
Glossary from the CNC - Chess Network Company, existing from October 2009 to March 2012, www.chessnc.com
Learn to say "chess" in different languages
Afrikaans: skaak
Albanian: shah
Arabic: شطرنج
Armenian: շախմատ
Azerbaijani: şahmat
Basque: xakea
Belarusian: шахматы
Bulgarian: шах
Bengali: দাবা
Bosnian: šah
Catalan: escacs
Cebuano: chess
Chinese: 棋
Croatian: šah
Czech: šachy
Danish: skak
Dutch: schaak
English: chess
Esperanto: chess
Estonian: male
Filipino: chess
Finnish: shakki
French: échecs
Galician: xadrez
Georgian: ჭადრაკი
German: Schach
Greek: σκάκι
Gujarati: ચેસ
Hebrew: שַׁחְמָט
Hindi: शतरंज
Hmong: chess
Hungarian: sakk
Icelandic: skák
Indonesian: catur
Irish: fichille
Italian: scacchi
Japanese: チェス
Javanese: catur
Kazakh: шахмат
Korean: 체스
Lao: chess
Latin: chess
Latvian: šahs
Lithuanian: Šachmatai
Macedonian: шах
Malagasy: chess
Malay: catur
Malayalam: ചെസ്സ്
Maltese: ċess
Maori: Tuhinga
Marathi: बुद्धीबळ
Mongolian: шатар
Nepali: शतरंज
Norwegian: chess
Persian: شطرنج
Polish: szachy
Portuguese: xadrez
Punjabi: ਸ਼ਤਰੰਜ
Romanian: şah
Russian: шахматы
Serbian: шах
Sesotho: chess
Sinhala: චෙස්
Slovak: šach
Slovenian: šah
Somali: shahaadada
Spanish: ajedrez
Sundanese: catur
Swedish: schack
Swahili: chess
Tamil: சதுரங்கம்
Thai: หมากรุก
Turkish: satranç
Ukrainian: шахи
Urdu: شطرنج
Uzbek: shaxmat
Vietnamese: cờ vua
Yiddish: שאָך
Yoruba: chess
Zulu: chess


Source: http://blog.viralchess.com/
Disclaimer
The content of this website has been compiled with meticulous care and to the best of my knowledge. However, I cannot assume any liability for the up-to-dateness, completeness or accuracy of any of the informations.
Inspite of carfully choosing the pages I am linking or referencing to I exclude all reliability for the content of these pages or corresponding subpages. Only the webmasters of the linked pages are responsible for their offered contents.
Kontaktadresse diagonal (@) bluewin.ch Haftungsausschluss: Der Autor übernimmt keinerlei Gewähr hinsichtlich der inhaltlichen Richtigkeit, Genauigkeit, Aktualität, Zuverlässigkeit und Vollständigkeit der Informationen. Haftungsansprüche gegen den Autor wegen Schäden materieller oder immaterieller Art, welche aus dem Zugriff oder der Nutzung bzw. Nichtnutzung der veröffentlichten Informationen, durch Missbrauch der Verbindung oder durch technische Störungen entstanden sind, werden ausgeschlossen. Alle Angebote sind unverbindlich. Der Autor behält es sich ausdrücklich vor, Teile der Seiten oder das gesamte Angebot ohne gesonderte Ankündigung zu verändern, zu ergänzen, zu löschen oder die Veröffentlichung zeitweise oder endgültig einzustellen. Haftung für Links, Verweise und Links auf Webseiten Dritter liegen ausserhalb seines Verantwortungsbereichs. Es wird jegliche Verantwortung für solche Webseiten abgelehnt. Der Zugriff und die Nutzung solcher Webseiten erfolgen auf eigene Gefahr des Nutzers. Die Urheber- und alle anderen Rechte an Inhalten, Bildern oder anderen Dateien auf der Website gehören ausschliesslich dem Autor beziehungsweise den genannten Rechtsinhabern.
Datenschutz: Gestützt auf Artikel 13 der schweizerischen Bundesverfassung (BV) und die datenschutzrechtlichen Bestimmungen des Bundes (Datenschutzgesetz, DSG) hat jede Person Anspruch auf Schutz ihrer Privatsphäre sowie auf Schutz vor Missbrauch ihrer persönlichen Daten. Wir halten diese Bestimmungen ein. Persönliche Daten werden streng vertraulich behandelt und weder an Dritte verkauft noch weiter gegeben. In enger Zusammenarbeit mit dem Hosting-Provider bemüht sich der Autor, die Datenbanken so gut wie möglich vor fremden Zugriffen, Verlusten, Missbrauch oder vor Fälschung zu schützen. Beim Zugriff auf diese Webseite werden wie beim Zugriff auf eine beliebige Webseite folgende Daten in Logfiles gespeichert: IP-Adresse, Datum, Uhrzeit, Browser-Anfrage und allg. übertragene Informationen zum Betriebssystem resp. Browser.
Quelle: Dieses Impressum wurde am 20.12.2014 auf der Grundlage des Impressum-Generator http://www.bag.ch/impressum-generator der Firma Brunner AG, Druck und Medien, in Kriens erstellt. Die Brunner AG, Druck und Medien, in Kriens übernimmt keine Haftung.
Kasparov – his 40 international gm tournament wins
| | | |
| --- | --- | --- |
| Year | International Invitation Grandmaster Tournament Wins in Classical Chess (40 wins or co-wins, full list) | Note |
| 1979 | Banja Luka | |
| 1980 | Baku | |
| 1982 | Bugojno | |
| 1982 | Moscow (official Interzonal) | |
| 1983 | Nikšić | |
| 1986 | Brussels OHRA | WORLD CHAMPION |
| 1987 | Brussels SWIFT, shared with Ljubojevic | WORLD CHAMPION |
| 1988 | Amsterdam Optiebeurs, Quadrangular | WORLD CHAMPION |
| 1988 | Belfort (GMA) | WORLD CHAMPION |
| 1988 | Reykjavìk (GMA) | WORLD CHAMPION |
| 1989 | Barcelona (GMA), shared with Ljubojevic | WORLD CHAMPION |
| 1989 | Skellefteå (GMA), shared with Karpov | WORLD CHAMPION |
| 1989 | Tilburg Interpolis | WORLD CHAMPION |
| 1989 | Belgrade Investbanka | WORLD CHAMPION |
| 1990 | Linares (1) | WORLD CHAMPION |
| 1991 | Tilburg Interpolis | WORLD CHAMPION |
| 1992 | Linares (2) | WORLD CHAMPION |
| 1992 | Dortmund, shared with Ivanchuk | WORLD CHAMPION |
| 1993 | Linares (3) | WORLD CHAMPION |
| 1994 | Novgorod, shared with Ivanchuk | SPLIT WC TITLE |
| 1994 | Amsterdam Euwe Memorial, Quadrangular | SPLIT WC TITLE |
| 1994 | Horgen Crédit Suisse | SPLIT WC TITLE |
| 1995 | Riga Tal Memorial (PCA Super Classic) | SPLIT WC TITLE |
| 1995 | Novgorod (PCA Super Classic) | SPLIT WC TITLE |
| 1996 | Las Palmas "Torneo Mundial de Ajedrez" | SPLIT WC TITLE |
| 1996 | Amsterdam Euwe Memorial, shared with Topalov | SPLIT WC TITLE |
| 1997 | Linares (4) | SPLIT WC TITLE |
| 1997 | Tilburg Fontys, shared with Svidler, Kramnik | SPLIT WC TITLE |
| 1997 | Novgorod | SPLIT WC TITLE |
| 1999 | Wijk aan Zee Hoogovens | SPLIT WC TITLE |
| 1999 | Linares (5) | SPLIT WC TITLE |
| 1999 | Sarajevo Bosna | SPLIT WC TITLE |
| 2000 | Wijk aan Zee Corus | SPLIT WC TITLE |
| 2000 | Linares (6), shared with Kramnik | SPLIT WC TITLE |
| 2000 | Sarajevo Bosna | SPLIT WC TITLE |
| 2001 | Wijk aan Zee Corus | |
| 2001 | Linares (7) | |
| 2001 | Astana | |
| 2002 | Linares (8) | |
| 2005 | Linares (9), shared with Topalov | (Kasparov retires) |
In his adult career, Garry Kasparov won (or co-won) 40 out of 52 closed international (invitation or official) gm tournaments in classical chess! He did not play any Open in his adult career.
Plus 3 National Championships:
USSR championship Frunze 1981, shared with Psakhis,
USSR championship Moscow 1988, shared with Karpov,
Russian Superfinal Moscow 2004, clear first
National: Sokolsky Memorial in Minsk 1978 (18 players), clear first, Kasparov won his first game against a GM, Anatoly Lutikov; plus some other national competitions
World Junior Chess Champion in Dortmund 1980
The winners of the 12 classical international tournaments Garry Kasparov didn't win were
(cursive = as World Chess Champion by FIDE / GMA / PCA / WCC from 1985 to 2000):
Moscow International 1981 – Karpov
Tilburg Interpolis 1981 – Beliavsky
Linares 1991 (the one that broke his ten years streak) – Ivanchuk
Amsterdam Euwe Memorial 1991 – Salov & Short
* Reggio Emilia 1991/92 – Anand
Linares 1994 – Karpov
Amsterdam Euwe Memorial, Quadrangular 1995 – Lautier
Horgen Crédit Suisse (PCA Super Classic) 1995 – Kramnik & Ivanchuk
* Dos Hermanas 1996 – Kramnik & Topalov
Linares 1998 – Anand
Linares 2003 – Leko & Kramnik
Linares 2004 – Kramnik
* indicates a series in which Kasparov played but failed to win
© by Chessdiagonals in 2019, free to copy. Website: http://www.chessdiagonals.ch/